What are the Best Kids' Musical Instruments to Learn First?
Music and learning to play an instrument can have so many benefits for your child! Learning how to play music, how to sing and listen to music are all a natural part of life. Music is about communication, self-expression and having fun! A rewarding experience that can help your child improve their ability to listen and focus, promote good self esteem, self-expression and problem solving skills, and best of all help your child grow as a person.
The best kids' musical instruments to learn first can be partly dependent on the age of the student and how long or short their fingers are, but the benefits are the same. The other important element to consider in choosing the best kids' musical instruments is what your child is most interested in. Have they expressed an interest in a particular instrument already?
The Different Types of Music Instruments
Before choosing the best kids' musical instruments to learn, it's a good idea to have a basic understanding of the different types of kids' musical instruments. Musical instruments are grouped into certain families, which are:
Keyboards – piano, organ, electric piano, synthesizer
Strings – violin, viola, cello, double bass
Fretted strings – guitar (electric, acoustic, classical), bass, 5 string bass, fretless bass
Woodwinds – clarinet, saxophone (alto or tenor to start), flute, oboe, bassoon
Brass – trumpet, trombone, french horn, tuba
Percussion – drum kit, conga drums, other hand drums, tambourine, shakers, cowbell
The Different Styles of Music to Consider
The other element involved in choosing the best kids' musical instruments is the kind of music they like. Certain kids' musical instruments are associated with certain styles, although it is possible to play any style of music on everything except percussion. Common associations are:
Electric Guitar – rock, pop, blues, jazz
Acoustic Guitar – folk, world music, blues, country, bluegrass, classical
Keyboards – the most versatile instrument and commonly associated with all kinds of music. Piano is great for technique in the beginning, but electric keyboards have a range of sounds which the student can switch between.
Woodwind instruments – (clarinet or alto sax) pop, jazz, funk, blues, gospel, classical, folk
Brass instruments – trumpets and cornets are usually associated with jazz, funk, soul, gospel, rock and classical
Our Recommendation for Your Child's First Instrument
Unless your child has a specific preference, the keyboard is a good kids' musical instrument to start with for students aged 7 to 10, since it is the most versatile of all instruments. However, this isn't your only option! If your child has expressed an interest in a different family of instruments we would recommend the following:
Guitar if they are 8 to 10 or older
Violin is another possibility for younger students – however, other string family instruments such as cello or bass are not because children's hands are not yet big enough to cope with the mechanics of the instrument
Clarinet is the easiest of the woodwinds, followed by alto saxophone – again, we'd recommend that you child start learning this instrument at about 8 to 10 years old
The trumpet or cornet (the same instrument, but different shapes) would be the best brass instrument for beginners at around 10 years old
Drums are best left until the student is 10 to 12 years old, as the feet are involved as well as the hands, and younger children's legs may not have grown long enough to make drums a realistic possibility
Depending on the length of your child's arms, hands and fingers, they may be suited to a larger or smaller kids' musical instrument. For example, a child with shorter arms and fingers will find it difficult to play bass, or a "jumbo" acoustic guitar because of the stretch required. In this situation, a ukulele or a "three quarter" size acoustic guitar would be more suitable.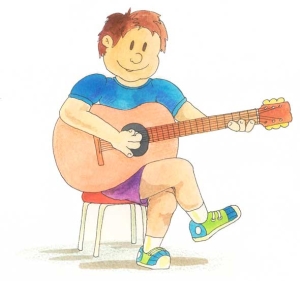 About the Author
Peter Gelling is an Adelaide based musician, composer and author. While he is best known as a bluesman, he is classically trained and his talents extend to many genres. Peter is the author of many music instructions published worldwide by LearnToPlayMusic.com.
– Continue learning with us at LearnToPlayMusic.com