Hi and welcome to the blog for Music Space episode five – thanks to those who tuned in live! In the first of a two part interview, Gary was joined by former Nashville guitarist, Sam Tritico, from his studio in Florida. Gary and Sam spoke about Sam's life and work as a professional musician, and discussed and demonstrated the 'Nashville Number System'. 
Beginnings in Nashville
Growing up in Louisiana saw Sam often traveling to see some of the great jazz acts performing in New Orleans, but it was moving to Nashville, the 'Music City', at age 16 that kicked off Sam's professional music life proper. Starting in 1971 as the bass player for touring gospel band 'The Brooks', Sam established himself in Nashville where he would work, tour, record and play with many bands. In 2001, the friendlier climes of Florida beckoned and Sam relocated to Merritt Island, where he opened his Island Music store and recording studio – Island-Music.com.
It was during his very first experience playing with The Brooks that introduced Sam to the Nashville Number System.
The Nashville Number System
The Nashville Number System is a means of replacing each of the seven tones of the major scale with a number. Simple as that.
Example: C = 1  /  D = 2  /  E = 3  /  F = 4  /  G = 5  /  A = 6  /  B = 7
See Nashville Number System Chart Simplified
Sam has been writing and teaching the Nashville Number System for many years.
This system is useful for beginners and professionals alike, helping them aurally recognize intervals used in a song's construction to learn guitar songs or transcribe music fast. Practicing, singing and identifying intervals in everyday sounds that you hear, will ultimately contribute to helping you become a better musician.
To be a versatile performer, the ultimate goal is being able to play a piece of music in any key.
For extensive examples of popular songs written with the Nashville Number System see Number System Songs.
Next week
In Part II of the interview with Sam Tritico on next weeks show, we'll be looking at how the Number System applies to the Beatles song 'Something', and we'll also dig further into Sam's impressive music career.
Some additional downloadable material:
About Sam Tritico
Sam Tritico is a former studio and touring musician from Nashville who now owns a music store and recording studio in Merritt Island, Florida. In addition to playing and producing music, songwriting has always been a second passion. Since 2008 Sam has produced and hosted a monthly writer's night in Cocoa Beach, and is the regional coordinator of the local chapter of NSAI (Nashville Songwriters Association International).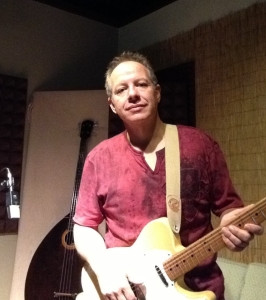 About Music Space
At LearnToPlayMusic.com, we know there's more to learning music than can be found in a book – it's also about people. That's why we bring you Music Space – the weekly live videocast with international music guests performing live and discussing the hows and whys of their experiences in music and life.
Each episode spotlights a new music topic relevant to the show's guest, covering anything from techniques, career advice, performing and songwriting tips, and essential music theory.
Viewers have the opportunity to interact with us during the live videocast by asking questions and posting comments. Episode are available on the Learn To Play Music Blog, which expands on each topic, invites further discussion, and features more great articles to help you learn to play the music you love.
Keep up to date with Music Space using Facebook, Google+ and Twitter, and interact with us and other viewers by using the #LTPMusicSpace hashtag.
– Continue learning with Learn To Play Music at LearnToPlayMusic.com