LearnToPlayMusic.com presents Episode 14 of the 'Music Space' webcast – the live Google Hangouts show. Join host, Gary Isaacs, as he tours the big, wide inspiring world of music. This episode's special guest was American classically trained pianist, arranger, recording engineer and producer, Leon Olguin. We talked about his methods for teaching piano and music theory lessons, otherwise known as the Popular Method of Playing Piano.
How to Teach Piano & Music Theory Lessons
Anyone can learn, or return to an instrument at any age. You could be 10, 30, 50 or 80! Quite often people will gather up their instrument and music material, sit down to play and then be faced with "now-what?" It's at this point that finding a music teacher or studying can be the vital step that progresses your ability to play and understand your instrument.
The Popular Method of Playing & Learning Piano
Learning the classical method of playing piano can be very daunting and frustrating! You need to know how to read the treble clef and bass clef. It's got to be exact, it's got to be all the right notes at the right speed and the right volume, with the right interpretation. It's very specific! That's not to say it can't be exhilarating to learn to play in this way, but it isn't for everyone.
The popular method of playing piano is to simplify things a bit – and allow people to make their own interpretations. It can involve a lead sheet, which is just the melody, chords and lyrics. With this, you don't have to read or play like a classical player. You can just take the chords and the scales that you know, and apply these to the lead sheet with your own interpretation. This method is particularly popular with rock, pop and jazz pianists.
How to Learn 24 Easy Piano Chords in 30 Minutes
Learning 24 easy piano chords in 30 minutes is a quick way for people to get an idea of what chords sound like, and fits in perfectly with the popular method of learning piano. There are 24 basic easy piano chords, major and minor from C to B. You can learn to play these chords even with just a print out of a keyboard. To get started, all you need to know is where middle C is – we've highlighted this in the diagram below.
Once you've found middle C, you can use this note to find all of the other notes. Either counting down from B to A, or up from D to E, and all the way through to G. Notes will repeat after G, from A, B, C, D, E, F, G, and through to A again. You can see these notes demonstrated in the diagram below.

Now that you know your notes, head back to the middle C. This is where we will create our first 3 note chord. C is the bottom note, followed by E and then G. Playing these 3 notes together will give you the C major chord, as shown in the diagram below.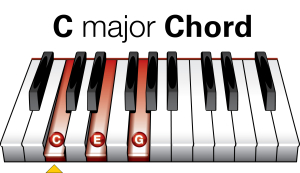 One of the advantages that pianists and keyboardists have over other instruments such as the guitar for example, is that you can play chords very easily. Chord shapes are transferrable, you don't have to develop callouses on your fingers, or learn how to contort your hand to make the wide variety of chord shapes found on the guitar. Piano chords are generally all of equal difficulty. To play the major chords of every note all you really need to do is shift your hand up and down the keyboard with the same hand shape. This makes the piano and keyboard the best instrument to learn music theory quickly and easily.
What is a Half Step?
Now that you know how to play your first major chord, all you need to learn in order to play every other major chord is a half step. A half step is simply moving up or down by one key, to either the white key or the black key – whichever is closest to that note. By moving all 3 notes in your C major chord up by half a step, you will have created the D flat (or C sharp) major chord, as shown in the diagram below.
You can apply this theory to create any of the 12 major easy piano chords. Why not use this process to find all 12 major easy piano chords on your own right now!
Using This Theory to Create Minor Easy Piano Chords
Now that you know how to create every major chord, we will learn how to create every minor chord. Let's go back to our C major chord and find the middle note, which is an E. Move just this note down by one half step (whilst keeping the other 2 notes the same,) and you have created the C minor chord, as shown in the diagram below.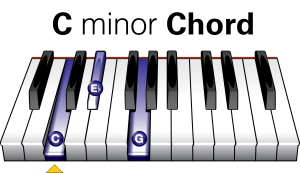 Play the C major chord followed by the C minor chord on your piano or keyboard, and you will be able to hear a distinct difference between the two. The difference you can hear is called the "quality" of the chord. The "qualities" of the chord will determine whether it is major or minor. You will notice that major easy piano chords sound bright and happy, whilst minor easy piano chords sound more mournful and sad. Understanding these qualities is how to can add emotion and feeling to a piece of music. You can use this method to now play all 12 minor easy piano chords, giving you 24 easy piano chords without even having to memorize them all. All you need to know is:
Where is middle C
How do I build a major chord
What is a half step
From there you can build all 24 major and minor easy piano chords. Good luck, and above all, have fun!
About Leon Olguin
Leon Olguin is an arranger, recording engineer and producer with four independent instrumental releases and numerous published and recorded compositions to his credit. He's a classically trained pianist with a degree in music theory and composition. Leon has extensive experience as a studio musician, live performer, seminar leader, voice actor, and music minister/director. His song "White as Snow" (Maranatha! Music) reached the status of classic worship song faster than any song in the history of Contemporary Christian Music. With his wife Sheryl Paige, Leon has engineered, arranged, and produced countless recordings for artists in the past 24 years. You can find many of his useful resources at the following links:
Folks can also sign up to receive the Soup to Notes Newsletter – a free publication that goes out on the first and third Tuesday of every month. Featuring valuable information on songwriting, performing, and recommended resources. To sign up, send an email to leon@solocreativemusic.com with the word "newsletter" in the subject line. Email addresses received will never be shared.
About Music Space
At LearnToPlayMusic.com, we know there's more to learning music than can be found in a book – it's also about people. That's why we bring you Music Space – the weekly live videocast with international music guests performing live and discussing the hows and whys of their experiences in music and life. Each episode spotlights a new music topic relevant to the show's guest, covering anything from techniques, career advice, performing and singing tips, and essential music theory. Viewers have the opportunity to interact with us during the live videocast by asking questions and posting comments. Episodes are available on the Learn To Play Music Blog, which expands on each topic, invites further discussion, and features more great articles to help you learn to play the music you love.
Keep up to date with Music Space using Facebook, Google+ and Twitter, and interact with us and other viewers by using the #LTPMusicSpace hashtag.
Happy learning all,
from The LTP Music Space Team.
Presented by +Learn To Play Music Inc.
Hosted by Gary Isaacs
Produced by: +Sarah Petrusma, +Pat McNamara
Technical Direction by Ben Dring
Who is LearnToPlayMusic.com
LearnToPlayMusic.com is the world's leading music education innovator and publisher of print, eBooks, apps and online lessons.
– Continue learning with Learn To Play Music at LearnToPlayMusic.com