LearnToPlayMusic.com presents Episode 9 of the Music Space webcast – the live Google Hangouts show. Our hosts Gary Isaacs and Sarah Petrusma, had special guest guitarist, John Delany on the show. We discussed the art of hybrid picking, and the benefits of taking the higher education route of making music a career. An exposure to diverse music styles and approaches to composition, plus aural training, core music theory and understanding music from a scientific perspective is especially important for those pursuing music, engineering and production work.
Hybrid Picking
Hybrid picking is essentially playing with a regular guitar pick (or "plectrum") while also using your other three fingers to play the guitar strings. As you can see in the photo below, your thumb and second finger hold the pick in the standard way. Leaving your other three fingers free to pick the strings along with the guitar pick.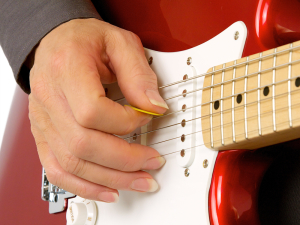 Hybrid picking is fantastic when used for ballads, quiet music or folk music. But it is also very popular in louder music, such as rock. It gives you great versatility, you can go straight from strumming chords into fingerstyle or into lead playing.
Hybrid picking gives you a tightness and a bold sound, allowing you to pick all the notes in a chord at the same time – rather than just strumming them. Artists such as Tommy Emmanuel and Chet Atkins are famous for using this hybrid picking style.
You can use this versatile technique on any guitar. The guitar you choose comes down to what you're personally comfortable with and the musical style or sound that you're aiming for (such as folk guitar, classical guitar, rock guitar etc). Hybrid picking is just one of the techniques that helps you get there. It allows you to play a variety of styles without relying on specialized guitar picks. This means you can go from steel string acoustic guitar, to electric guitar or classical nylon string etc, without the need to change your guitar pick.
You can even use this technique across different stringed instruments, such as bass, mandolin, banjo or ukulele etc. Getting your coordination at the start can be a little bit difficult, but starting simple and slow. Building up using more variations and speed as you become comfortable can help you to gain control over your pick and fingers more quickly. One tip is to start with a chord progression and then arpeggiate the chords.
Hybrid Picking Sample Exercise
Start by playing two notes at a time. For example, take a regular C chord and play the base note of the chord (with the pick), and the top note of the chord (with the third finger of your right hand) at the same time. Once you're comfortable with the sound you're getting, you can change between other chords.
As you become more comfortable with this simple pattern across various chords, move onto filling that chord out with notes in between. Add unique variations throughout the chords, and start playing your pattern more quickly.
There's no one approach to the way you should hybrid picking. You can pick mostly with the guitar pick, using your fingers only as necessary. Or you can use your fingers more consistently, relying less on the pick. It all comes down to what is most comfortable for you.
Another good method for improving your hybrid picking is to listen to a piece of music that you really love. Try to pull out both the chords and the melody from this piece. By listening very carefully, and going through the piece slowly, you can play the melody over the chords and experiment with picking patterns and improvisation. The ability to listen to a piece, and to know what chords, scales or tuning is being used is called aural training.
Aural training is an important part of any musician's musical career. It helps in terms of transcribing, knowing your intervals, chords and tonality (i.e., the key and scales used). One good place to build your skills in aural training is through higher education, such as a course in Music or Music Technology.
The Benefits of a Higher Education in Music
A higher education course in music can give you the knowledge to break music down to a more basic or scientific understanding; giving you an insight into how things really work at a core level. You get exposed to a wide variety of musical styles and the history of music.
This combination of learning both old techniques and new processes really allows you to understand music and to explore new sounds. You are also surrounded by other students, studying music with similar passions. These students could one day become the professionals that you work with, so the networking opportunities of higher education are priceless.
About John Delany
John Delany has a bachelor degree of Music Studies, majoring in Music Technology through the University of Adelaide. He currently works as musical proof reader at LearnToPlayMusic.com, ensuring all music related assets and content for publication are correct.
About Music Space
At LearnToPlayMusic.com, we know there's more to learning music than can be found in a book – it's also about people. That's why we bring you Music Space – the weekly live videocast with international music guests performing live and discussing the hows and whys of their experiences in music and life. Each episode spotlights a new music topic relevant to the show's guest, covering anything from techniques, career advice, performing and songwriting tips, and essential music theory. Viewers have the opportunity to interact with us during the live videocast by asking questions and posting comments. Episodes are available on the Learn To Play Music Blog, which expands on each topic, invites further discussion, and features more great articles to help you learn to play the music you love. Keep up to date with Music Space using Facebook, Google+ and Twitter, and interact with us and other viewers by using the #LTPMusicSpace hashtag.
"Happy learning!" – The LTPMusicSpace Team
Presented By: +Learn To Play Music Inc.  Host: Gary Isaacs and +Sarah Petrusma  Produced By: +Sarah Petrusma, +Pat McNamara  Technical Director: Ben Dring
Who is LearnToPlayMusic.com
LearnToPlayMusic.com is the world's leading music education innovator and publisher of print, eBooks, apps and online lessons. – Continue learning with Learn To Play Music at LearnToPlayMusic.com